The media can play a key role in delivering your message and ensuring the success of your advocacy strategy. It provides the opportunity to inform and influence public opinion, the private sector, and policy-makers and groups involved in political processes who also pay close attention to the press. So using the media can sometimes help you reach multiple audiences. The main benefits of using the media are:
the ability to deliver your message to a large number of people, potentially attracting public interest and supporters to your cause
getting your issue on the policy-makers' agenda
the possibility of increasing your profile and credibility with policy-makers, and therefore improving your access to them, especially when repeatedly in the media.
Like any approach, use of the media also carries certain risks. For example:
the possibility that the coverage of your organisation or cause will be unfavourable
or inaccurate. Many media have a 'right of response' that you can use, especially if an article is actually inaccurate.
the possibility that media coverage will motivate any opponents to your cause.
libel cases can be brought against your organisation if you get your facts wrong or can't prove them (for advice on libel, see the box in Chapter 3: Doing your tax research, page 21).
The best way to help ensure that media coverage will advance your advocacy goals is to plan ahead.
Once you decide to use the media, there is a wide range of techniques to choose from. Which method you choose depends on the nature of your message, the audience you hope to reach, the forms of media that are accessible to you, and your own level of skill and experience in dealing with the media.
Planning your media strategy
Before deciding to use the media, it is important to consider how important the media is to your advocacy, how relevant a particular form of media is in your context, and which media outlets are influential with your target audiences, including policy-makers.
Once you have decided to use the media, you should first ask:
What is the main message you need to convey?
Who do you want to reach with the message?
Which type of media is most appropriate to reach the audience? Which forms of media are they most likely to use?
How can you present the issue in a way that will interest the media? Be creative in trying to get media coverage, especially if you are also doing public campaigning.
How will you time your media effort to complement your other activities and so bring you closer to fulfilling the objectives of your strategy? It's important you stick to your core message, that is the same one you've been using for lobbying and mobilising people.
Which media will you use?
In every country, the media is different. Some media outlets are controlled by government, some by big corporates; some have wide distribution, others very minimal. In some countries, it is appropriate to work with newspapers; in others, you may want to work with TV, internet or radio stations – or perhaps you'll use a combination of them all.
It is important to analyse your advocacy targets and what forms of media they have access to.
In many rural areas, radio is very popular and easily accessible, while some people will read local and national papers. For example a 2008 study by the BBC World Service Trust9 provided new information about the state of the media in 17 sub-Saharan African countries. They found that the media is serving a growing number of people, primarily among young, rural and illiterate demographic groups – with radio dominating the mass media spectrum. Community radio, in particular, was seen to have a special role in advancing development objectives, giving a voice to communities, increasing their participation and opinion sharing, and developing their skills. The tendency of local radio to use local languages is a major advantage.
Local radio stations often have 'walk-ins' or 'phone-ins' which can be a good opportunity to share your concerns about tax. Drama and songs with a campaigning message can translate very well onto radio too, so be creative in trying to get coverage. If you can afford it, then radio 'jingles' are also a way to share information about your advocacy issue – a jingle is a memorable short tune with a lyric used in radio and TV commercials, usually to convey an advertising slogan but can be just as powerful for advertising your advocacy initiative. For example the Kenyan tax authorities have developed a jingle that says 'Kulipa Ushuru ni kujitegemea' meaning 'Paying tax is being independent'. Perhaps CSOs and NGOs can get in on the act too!
In urban areas, TV and newspapers may dominate. TV is often the medium watched by influential decision-makers and opinion leaders – current affairs and news shows are likely to be a core source of information for them.
It's worth considering whether there are particular trade magazines, business press or periodicals that might appeal to key influential sections of the population. Tax is often covered in the magazines of associations of taxpayers, taxpayer alliances or accountancy (for example Accountancy Age) and law professionals – they can be hard to access, though certainly not impossible, but are very useful for targeting a specialist audience. However, most tax matters are covered in the business or economy pages of the mainstream press.
The internet is an increasingly powerful media tool in many parts of the world. However, many millions of people in the developing world still cannot easily access the internet or, when they do, have trouble downloading content or interacting due to limiting technology. It's important to bear this in mind when you're developing your media strategy, as it may not be appropriate for a large part of your target audience.
The internet can be used to develop websites for your organisation, network or campaign that contain information on your advocacy, press releases, reports, stories, images and quotes. Equally, many media outlets cover stories via their websites and often have comment pages and interactive forums for members of the public.
A blog is a type of website meaning a 'web log' or an online diary, usually maintained by an individual with regular entries of commentary, descriptions of events, or other material such as graphics or video. Many bloggers differentiate themselves from the mainstream media, while others are members of that media working through a different channel. Many blogs provide commentary or news on a particular subject and are an increasingly popular forum for social and political commentary. As such, blogs or blogging may provide some opportunities to engage with people and keep them informed of developments in your advocacy work.
For an example of a tax blog from TJN, see: http://taxjustice.blogspot.com/
Internet-based social networking sites are also increasingly used to spread the campaigning word, linking people and friends to get behind an issue and take action. Many campaigning organisations have their own Facebook groups, where members are informed of upcoming events, new reports, or media stunts, with the added feature of a discussion group which allows for commenting. Facebook groups are especially efficient for regularly informing your members or those who follow your campaigns – more often than membership letters or newsletters. But Facebook and other social networking sites are less private than talking to somebody on the street, so do not post private campaigning messages on Facebook, but use personal email and closed discussion groups for this purpose. Remember not everyone is on Facebook; for instance in Brazil 'Orkut' is more popular, in China 'QQ' has more subscribers than Facebook, and in the Arab world 'Maktoob' is the leading site.
Twitter allows members to post short 'tweets' (or messages) like bird songs, to people who subscribe to a specific 'twitter' channel of the same name. Twitter channels are public, so it's a great way to bypass major news networks and radio, which are more often controlled by corporate and government interests. This is especially useful for quickly unfolding campaigns, for instance a corporate scandal, an environmental disaster involving an MNC, or political controversy. Check out a tax example from TJN at http://twitter.com/taxjusticenet. Be wary of using Twitter for much more than the real time – over-communicating on Twitter can be addictive, and you may lose your subscribers.
Consider having a new channel for each event, and a general organisational channel for reports, news and publications.
As mobile phones proliferate, they are also an increasingly popular way of communicating by SMS with members of the general public or your supporter base (remember to ask for their consent), keeping them updated on developments in your advocacy work and asking them to take action, join a campaign event, or lobby their local representatives.
Always research your media
Know something about the organisation or media outlet you are contacting:
Is it fair, reliable, well known?
In particular, does the publication or programme usually cover stories similar to yours?
Is your target audience likely to see, read or hear the coverage provided by that news organisation?

Which forms of media are the decision-makers most likely to listen to and engage with?
What about other stakeholders you're trying to get on board with your advocacy?
Sometimes, no matter how careful you are, you may receive negative news coverage.
What does the media want?
Sometimes it is necessary to 'pitch' your ideas to the media. This means convincing someone – for example a reporter, a radio journalist, an editor or a TV producer – that your story is worth covering, or that your opinion is worth publishing.
Stories
What reporters value most is good information and a good story. Try putting yourself in their shoes and ask yourself:
 Why is this interesting?
What will catch people's attention?
What is new, fresh or original about this story?
Be prepared to make a strong case for why your story is important. Be sure of your facts – being a source of trustworthy information is essential to establishing your credibility. Equally, if you get your facts wrong it can be very damaging to your reputation and/or to the reputation of your organisation or campaign.
Timing
The key to good story-telling is good timing. Act fast as journalists usually don't have much time on their hands and the story may go off the boil!
Note that most newspapers have deadlines to prepare their stories for the next day. The earlier you launch your story or press release the better.
If you are trying to use the media to influence the outcome of a meeting – for example a parliamentary vote or discussion – approach newspaper journalists a day beforehand, so that your story can have an impact before the decision is made. Be available to provide comments for the media if there is an opportunity.
News
Is it newsworthy – what is the 'news' your story is telling? Linking your messages with the breaking news can really help. When a story is already in the news, it is easier to sell your angle on it. Offering a story or photo opportunity that illustrates a new or local perspective, or which dramatises a particular point of view,
is a major strength.
Hooks
Link your story with news opportunities such as:
current events and/or news stories
budget statements
a high-level meeting
a speech
an anniversary.
These are often known as 'hooks'.
When it comes to tax, the more real and relevant to people's lives you can make your story the better – it helps move it out of the technical realm and makes your tax issue more accessible and more popular, and hopefully will ensure that it becomes part of mainstream discussion.
Different ways of communicating with the media
The following are some of the traditional forms of communication with the media, but you should, of course, feel free to adapt them to your local environment.
Contacting reporters
A common way to obtain media coverage is to interest a reporter in your story. Build relationships:
Know their work – do your research on the individual reporter and organisation. Have they covered your issues in the past? What was their angle?
Use 'warm' contacts – someone who has covered your organisation or its partners favourably in the past.
Inform – make contact with key journalists and editors to introduce yourself and tell them about your issues.
When you meet them, demonstrate that you know and appreciate their past work.
Informal settings are good for meeting – they provide time and space for conversation.
Meet now, benefit later. If a reporter has met you in the past, they are more likely to approach you when they are working on a story and to pay attention to information or stories you send them.
Investing time in building relationships with journalists and editors also enables you to run ideas past them, to see what aspect of your story is most suited to their needs.
Photo opportunities
Photo opportunities are a great way to tell a story in a visual way. The key to a good photo opportunity is to communicate your message through an image. A campaign stunt is the most common type of picture, although good images can also be generated by a march or other events.
Photo opportunities can be useful when you want to use an external event to promote your message. For example, Christian Aid wanted to call on the G20 leaders to combat tax dodging by requiring multinational companies to reveal their profits and tax payments in every country where they operate. In order to do so,
a campaign stunt was organised where activists dressed as 'pirates'.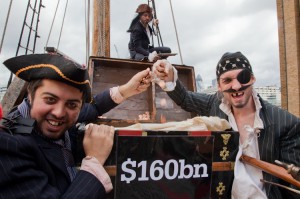 You may also want to use a photo opportunity to illustrate the launch of a tax report or an opinion poll or any other tax-related news. Besides the image, you can also prepare good captions to distribute to the media when you prepare a photo-call notice.
Opinion pieces
Writing an article for a newspaper or blog about a tax issue that reflects your organisation's opinion can be a very good way to get your message across. Research which wires and which newspaper sections would be most appropriate for such an article. Also pay attention to the size of the articles. Some newspapers have sections where they always have opinion pieces, particularly in the politics and economy sections.
For example, Action for Economic Reforms in the Philippines has a regular column in the Business Mirror and Business World, where it has covered tax among other issues.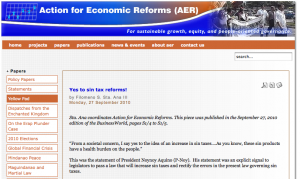 News advisories
News advisories are communications designed to alert the media to an upcoming event. Keep in mind that news events are work for journalists. Be sure that your event offers something of potential value to reporters before you invite them, or they may not come again!
The main purpose of a news advisory is to tell the journalist: who, what, where, when and why. Advisories are issued before an event, usually several days ahead of time, to accommodate reporters' schedules. Ideally, a follow-up call should be made to priority outlets the day beforehand, reminding them of the event. A news advisory should have these elements:
A short description of the event
The location (and directions, if appropriate)
A contact person (including phone number)
The date
If the event is visual (and it should be), a description of what it will look like or a photo.
Press releases
The most common method of getting your message to different media is a press release.
A press release is a written statement that alerts the press concisely to an issue you want them to cover – for example, a public announcement you are making, a comment on an event, a hard-hitting report, or the launch of a new campaign. You can distribute it by fax, post or email to the journalists you are seeking to reach.
A press release should make life easy for the journalist, giving them enough information in a short, punchy style to persuade them to run your story. It should also include contact information in case they have follow-up questions. Frequently, a press release includes quotations that can be used as part of a story. Keep in mind that the media are likely to use your release as soon as they get it, so make sure that you alert them to an embargo if there is one.
The easiest way to write a press release is to work from a model (see the example overleaf).
Usually, a press release is structured as follows: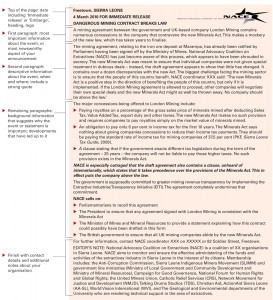 Interviews
As soon as you issue a news release or contacta media organisation, someone should be ready and available to be interviewed. A good way to prepare is to be ready both for questions you would like to be asked, as well as for those you would like not to be asked.
A good way to get ready for a press interview is for you and your colleagues to prepare talking points. These are very short statements that summarise the main points that you hope to make during the interview. These points should contain the main message you hope to get across. When discussing tax, it's important for most media that you are not too technical and have some clear, easily understood examples (stories) to illustrate your point.
It is also common to prepare written 'questions and answers' that anticipate possible questions and then map out the best responses. While the person being interviewed should not try to memorise all of this information, it can be extremely helpful to have thought in advance about how to respond. If you are representing an organisation, this method also helps the interviewee benefit from the entire team and helps to develop internal consensus on complex issues before a public statement is made.